Cabo San Lucas | Mexico
It's been a couple years since my very first blog, 'Chillin in Cabo'. Since that time, I've been back to Cabo 3 times. Cabo has grown on me and easily became our favorite quick beach getaway. I truly have come to appreciate the beauty of the powerful Pacific and the stunning formation of nature's rocky seaside here. As many know, it is unsafe to get into the ocean in Cabo due to the rocky landscape but once you are there you realize you don't miss getting in the ocean, you just want to stare at the power of Mother Nature. Cabo has so many adventurous excursions and secret getaways, while maintaining the perfect tropical weather. There's no reason to have safety concerns while visiting Cabo, tourism truly is their only way of life here and their dedication to maintaining superior service in a safe place is their top priority. Read on for my recommendations in Cabo San Lucas.
Wanderlust Hotels
Resort at Pedregal - Pedregal is a gated community sitting atop the mountain offering breathtaking views of the El Arco and the rest of Cabo. If safety is a concern, staying here won't be. This five star resort offers exceptional service and luxury. Each terrace villa comes with a plunge pool. There are 3 pools on site, one offering a place for families and the main infinity pool offering a swim up bar and gorgeous views. El Farrollon is also located here and it a must dining experience while in Cabo.
Las Ventanas al Paraiso - This is a rosewood resort that is a very popular option for luxury travelers as well. Highly awarded for exceptional design and service, this resort is truly a way to treat your self. They offer two resort pools, one on the beach and another with a lazy river that runs through a cave which is a hit for kids. Each villa here also has an infinity plunge pool. The resort offers 5 restaurants on site, you don't ever have to leave.
One & Only Palmilla - Although I have not stayed here, One & Only is a well known resort brand that offers incredible luxury and service. They offer four restaurants on site. I would definitely put this on your list when searching for your next stay.
Grand Velas (All-Inclusive) - If all inclusive is more your speed when traveling to Mexico I highly recommend the Grand Velas, they have a location in Riviera Maya as well. This resort is the best all inclusive I have stayed at and the food and drinks are top notch. There are seven gourmet dining restaurants available on site, they do require reservations. They offer a great kids and teen club and activities to keep your children busy while you relax at the pool. I enjoyed the pool spa service here, they come to your pool lounger and can offer a variety of spa treatments.
Villa la Roca - If you are one for luxury or traveling with a group I highly recommend this villa in Pedregal. Perched atop the mountain cliffside, you will experience the most incredible views in all of Cabo from this home. Not only have celebrities stayed here, you have a full staff to wait on you everyday. To book this villa or others in Cabo visit Luxury Retreats.
Wanderlust Experiences
Beach ATV Tour - If you are wanting a little adventure but still want to see the ocean while doing it, then this is the experience for you. Head for the open desert and beach-lined shores of Migrino Beach, approximately 25 miles north of Cabo San Lucas. If you go January through March you may just be in the right place for spotting migrating whales.
Rent a Yacht - Take a half day out to sea and enjoy some wide open ocean, swing by the Arco, stop and snorkel or just bask in the sun while siping rosé. You really can customize your level of adventure or relaxation. Check to this company for luxury yacht rentals.
Zip Lining & UTV's - If you are looking to add some adventure into your beach getaway, look no further than this excursion right here. This excursion includes a zip line tour, tropical hike, and fun Polaris UTV off-roading experiences. At $129 a person you rally can't pass it up. Be sure to dress in black as you'll get dusty from cruising the dunes. Check out my previous blog for photos of this experience.
Secrets of Baja Sierra - This experience is AMAZING and highly recommended. We booked this excursion through the Resort at Pedregal and it was worth it! Travel out to the secret waterfall oasis in the middle of the baja desert. Be ready to hike it about 5 miles roundtrip but I am telling you the hike is worth the view. After you have made it they take you to The Ranch for lunch where you will learn the tortilla slapping techniques and make your own dessert. Please note that this tour is not offered in the summer months due to heat. Having done this in April we were ok and enjoyed the cool spring water flowing from the waterfalls. My pictures from this experience is below in the slideshow.
Pedregal beach - If you are staying in Pedregal, do your self a favor a go down to the private beach and take a walk. You will be walking though the towering seaside rocks, its gorgeous. Check out my previous blog for pictures of this experience.
Omnia Beach Club - If you're more the party type and are looking for a day club this is the place you want to be. Famed for their Vegas nightclub, they have opened the day club experience here in Cabo, their other location being Bali. Don't miss the IG worthy entrance as you arrive and get ready to party!
El Arco & Lovers and Divorce Beach - Travel downtown to the beach, after you have lunch at The Office, take a boat ride out to El Arco and hang out at the famed Lovers and Divorce beach, which got its name due to the huge water temperature difference on either side. Read a little more detail about this experience on my previous blog.
Scuba Diving - Being an amateur diver at best, I haven't had the chance to scuba here but I have heard from my fellow wanderlusters that cabo has some really great dives. If its your thing, put Cabo on your list!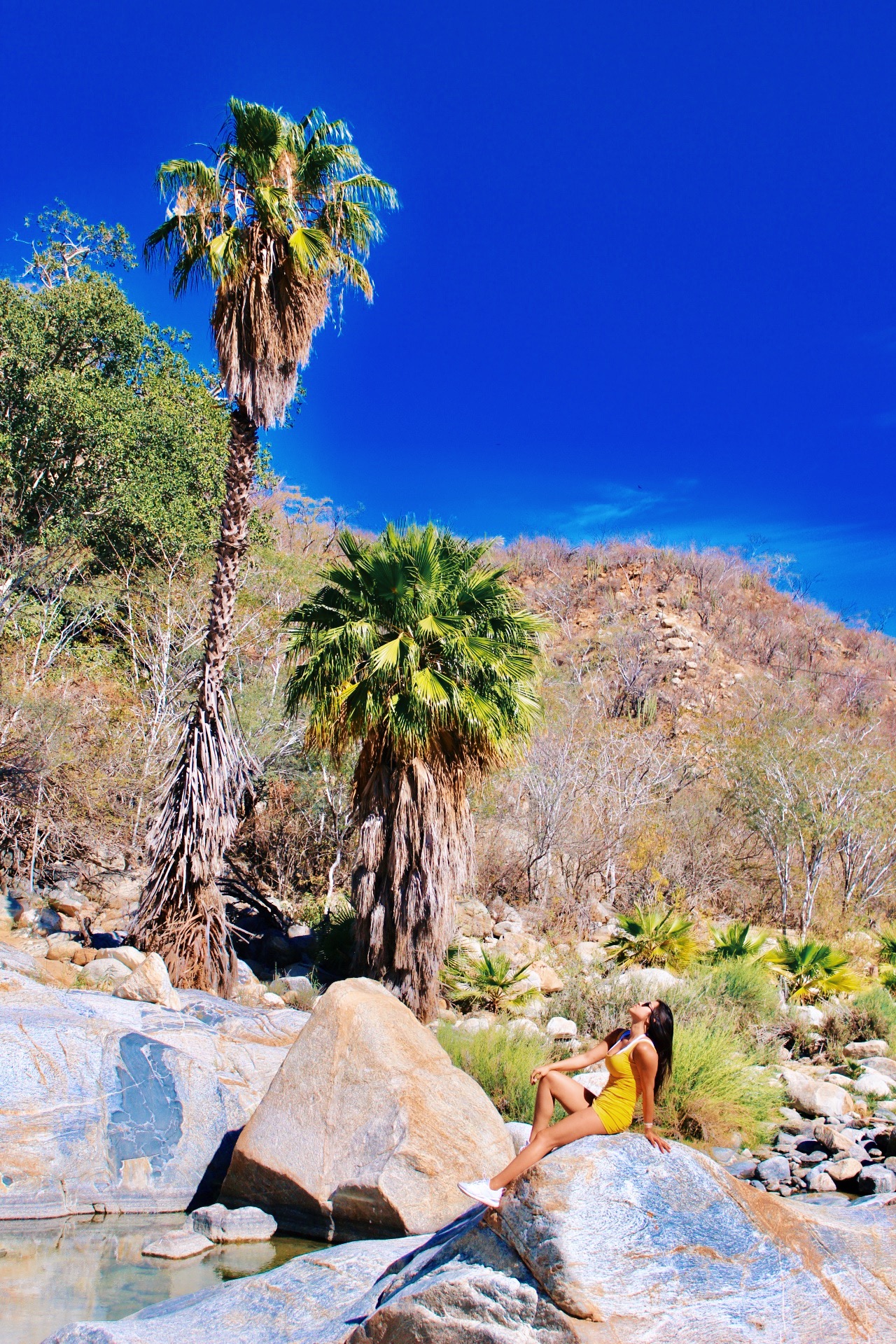 Wanderlust Cuisine
El Farrollon - Restaurant with a WOW factor. Located in The Resort at Pedregal. You can sit atop the cliffside and watch the powerful waves slam against the rocks which make for the most gorgeous dining backdrop. The food is served tapas style once you select your meat at the front counter. We just recently were here for Easter brunch which was an incredible display of food and the largest charcuterie selection I had ever seen up close. They typically only have brunches available on special events and holidays.
Edith's - This is your classic Cabo right here. True authentic Mexican food and atmosphere is what they are serving up! The colorful interior and lovely staff make you just feel good. They have a few special performance items on the menu too!
The Office - Also a popular spot that sits on the beach looking out to the Arch. It's a perfect lunch spot when touring the town for the day. You'll see a lot of beach vendors but thats apart of the beach atmosphere here. Take a look at the picture our meal below.
Sunset Mona Lisa - A romantic choice! You can sit here and watch the sunset sitting atop the seaside rocks. This is a set course menu restaurant. Don't forget your shades!
Nick & San - Just a great Sushi spot in downtown Cabo. Simple as that!
The Ranch & Tortilla Making - I briefly mentioned this in the experiences section but wanted to recommend it again as it is one of my top experiences I have embarked on while in Cabo. After hiking out to the waterfall, we arrived here for an authentic Mexican lunch. After we were served we were invited into the tented outdoor kitchen to learn how to make tortillas the tortilla slapping way. Once we cooked out tortillas we had a simplistically delicious dessert with strawberries and raw honey wrapped in our own hand made tortillas.
Wanderlust Itinerary
Day 1
5:00pm: Arrive
8:00pm: Dinner at hotel
Day 2
9:00am: Breakfast
12:00pm: Spa
2:00pm-5:00pm: Lunch and pool
6:30pm: Dinner at Sunset Mona Lisa
Day 3
8am-3pm Excursions (highly recommend The Secrets of Sierra Baja)
7:30pm: Pre-dinner drinks
8:30pm: Dinner at El Farrollon
Day 4
9:00am-12:00pm: Relax pool
1:30pm: Lunch in town at The Office
3:00pm-4:00pm: Boat tour El Arco
7:00pm: Dinner at Edith's
Day 5
7-10am Sunrise paddle boarding to El Arco
Brunch at hotel
Afternoon departure
With all the amazing experiences and lux resort options, Cabo will wow you not just with its natural beauty but with the exceptional service and adventurous experiences. I hope I have inspired you to visit or return to Cabo San Lucas. As always, please message me with any questions regarding this destination.
Stay Wandering!